Thank you to everyone who participated in our 26th annual Day of Caring! We experienced our biggest year yet and we are incredibly grateful for you caring support.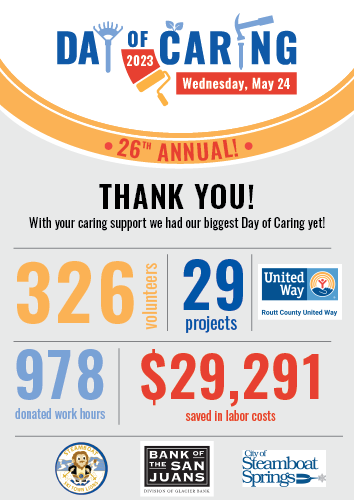 Here's what participants are saying about the 2022 Day of Caring:
Thank you, Kate!! Your team always does such a great job!!! Thank you for the opportunity to sponsor this awesome event. I am always impressed with the participation and scope of what we can accomplish.
• Zach Chelburg, Bank of the San Juans
I just want to extend a big THANK YOU for all your help at the shelter yesterday!! We have been hard at work making updates, so this is a comfortable home for those fleeing violence, and we made huge strides yesterday thanks to your support!
• With gratitude, Chelsie, and the Advocates Team
We really enjoyed helping at LiftUp!  Thanks so much for spearheading this important event.
• Deana Von Almen, Yampa Valley Bank
I just wanted to say thank you so much on behalf of Discovery Learning Center. Our volunteers came in their bright red shirts and really worked hard cleaning all our windows before our "graduations"! Everyone has commented on what a great job they did, and they did it with a smile!
• Lynn Romeo, Discovery Learning Center
Special Thank You to our Sponsors!